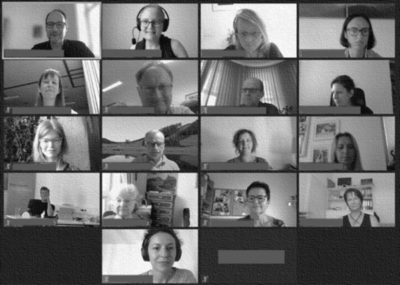 Successful launch of Theory of Change Workshops in Austria
On 10th and June 17th, 2021, the InCARE team organized and ran a multi-stakeholder ToC-Workshop focused on developing a vision for LTC development in the Austrian region of Styria. Due to COVID-19 restrictions, we met online. The online format allowed us to bring together participants from within and outside our region and to organize activities in a way that de-emphasises potential power hierarchies between participants.
There were, however, also inconveniences. Some potential participants found the online meetings challenging and less accessible as they require both technical equipment and some familiarity with online tools and decided not to take part in the workshop for these reasons.
Altogether, we could count on 12 to 18 stakeholders at different times. They represented a broad variety of actors in the long-term care system, including care users, informal carers, local politicians, public authorities at the local, regional and national levels as well as care professionals and researchers. The participants were engaged in a series of moderated plenary and break-out session discussions, and the main points of consensus were transposed into the ToC-Map.
The close co-operation between our national policy and implementation partners (i.e., the European Centre, Chance B and the BMASGK) in the preparation and implementation of the workshop was a key element for its success of the workshops. This was confirmed by the positive feedback expressed by participants who valued the opportunity for multi-disciplinary exchange and joint working.
We are convinced that the workshops became a decisive element in building a strong basis for the local project implementation, starting in autumn.
Illustration: screenshot of the participants on the second workshop day, © Ondas