The InCARE project will contribute to the design  of a coherent and coordinated approach to the development of national long-term care policy and care services at local and regional level, by establishing socially innovative and participatory decision-making processes.
We work with care users, care provider organizations and policy-makers in Spain, Austria and North Macedonia to design, implement and scale-up innovative care services, with the ultimate goal of improving the well-being of older people and their families and increase their access to adequate and affordable care.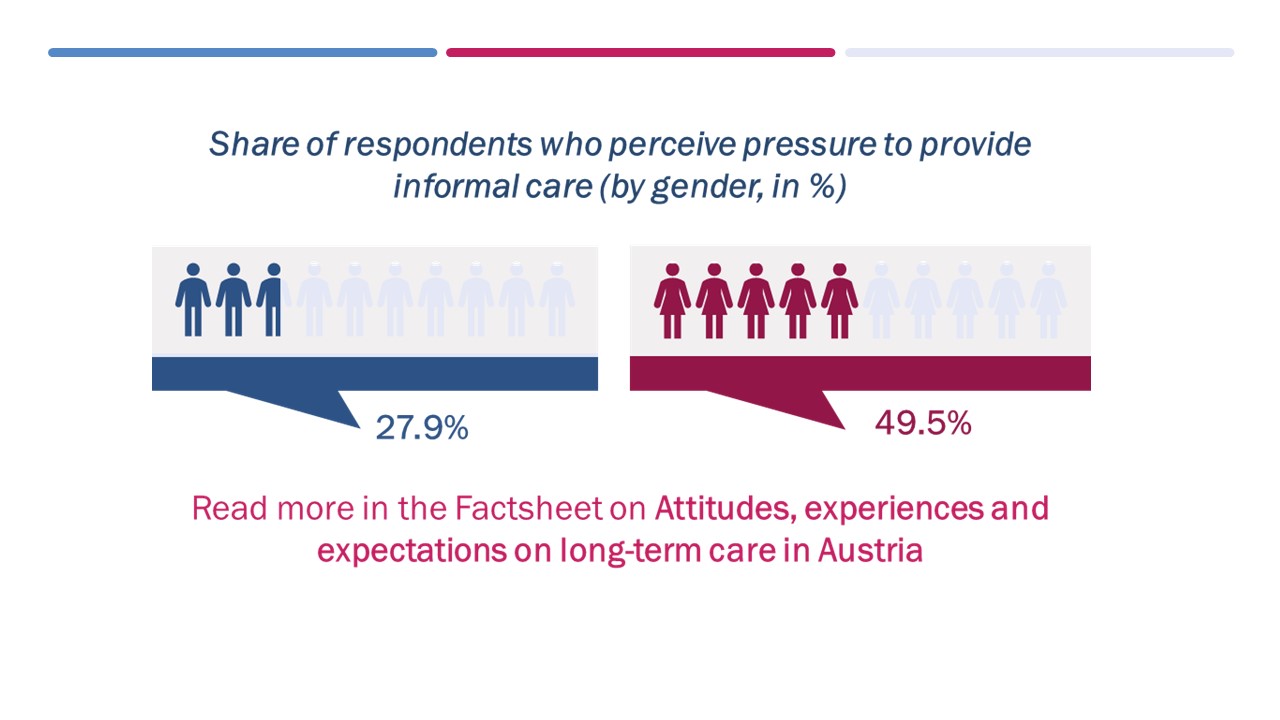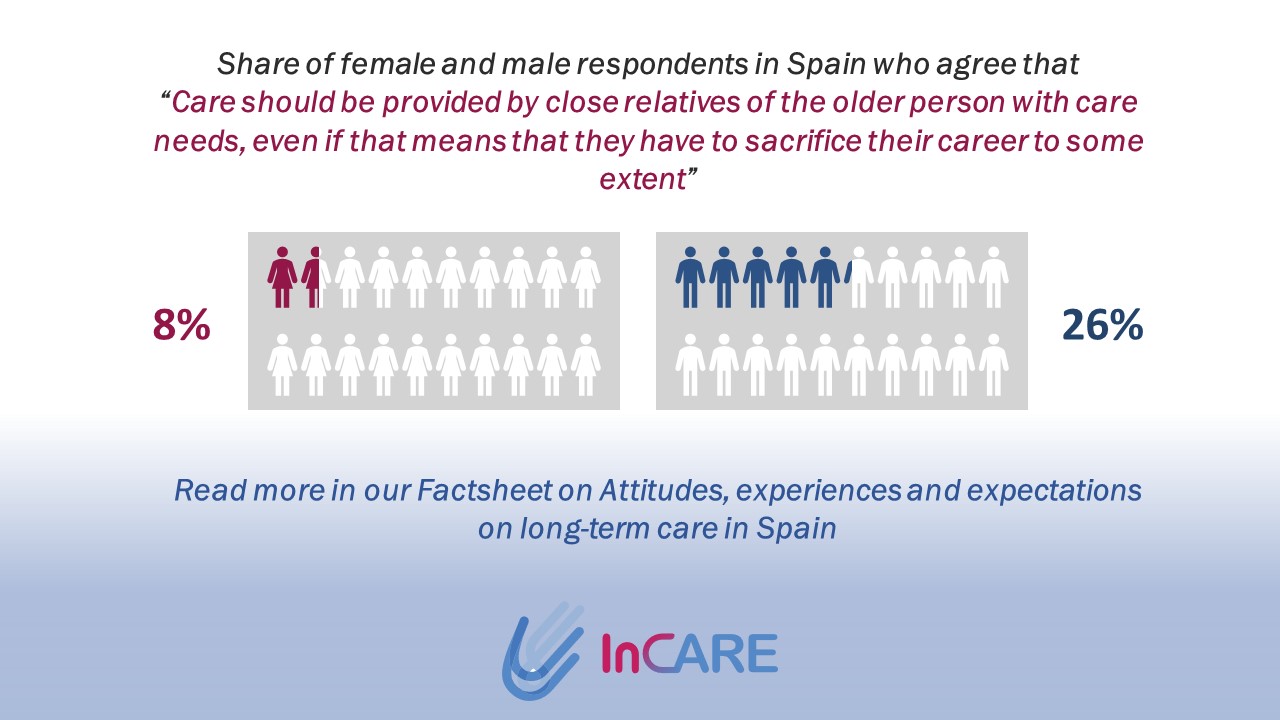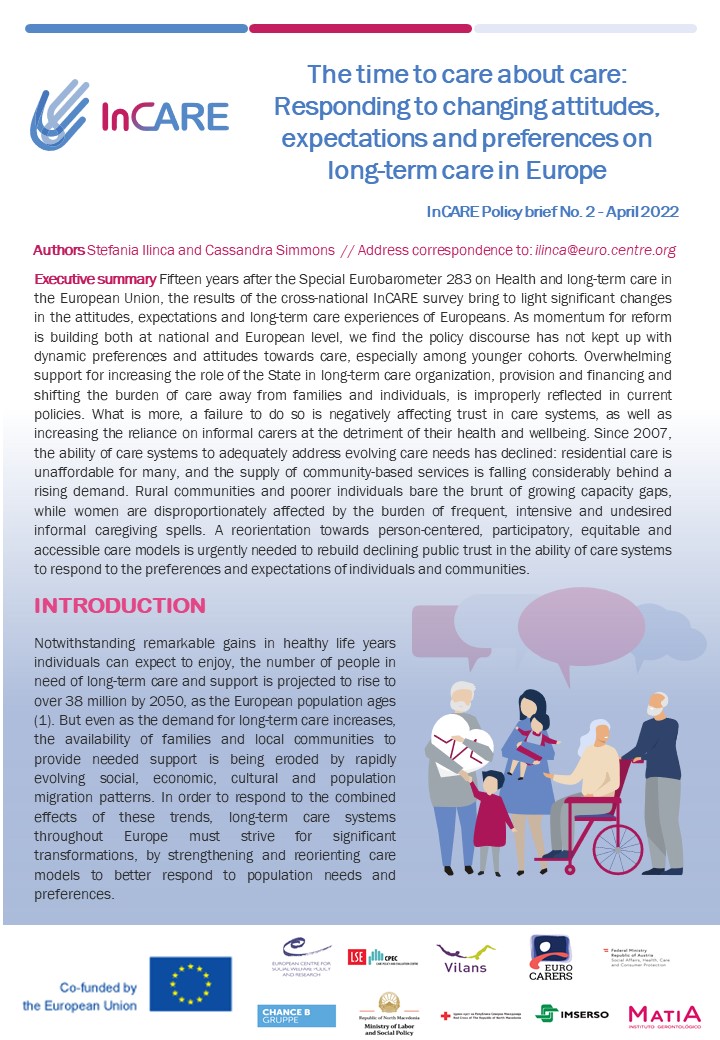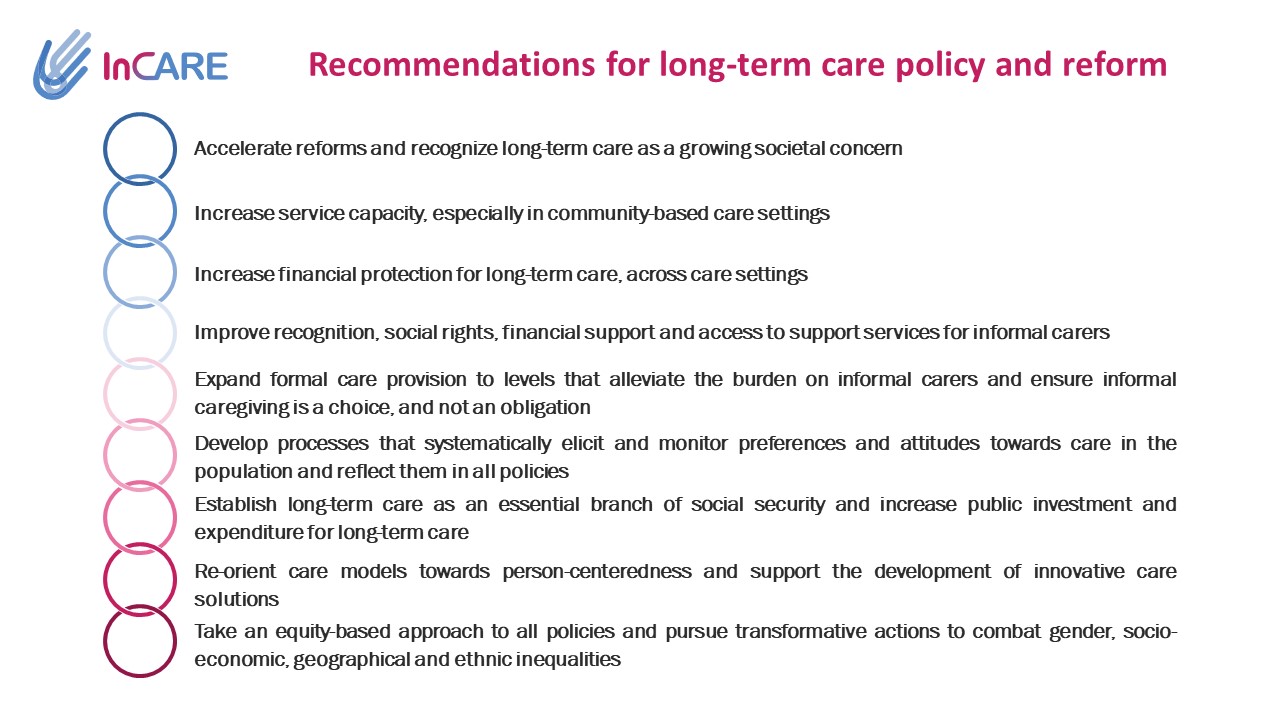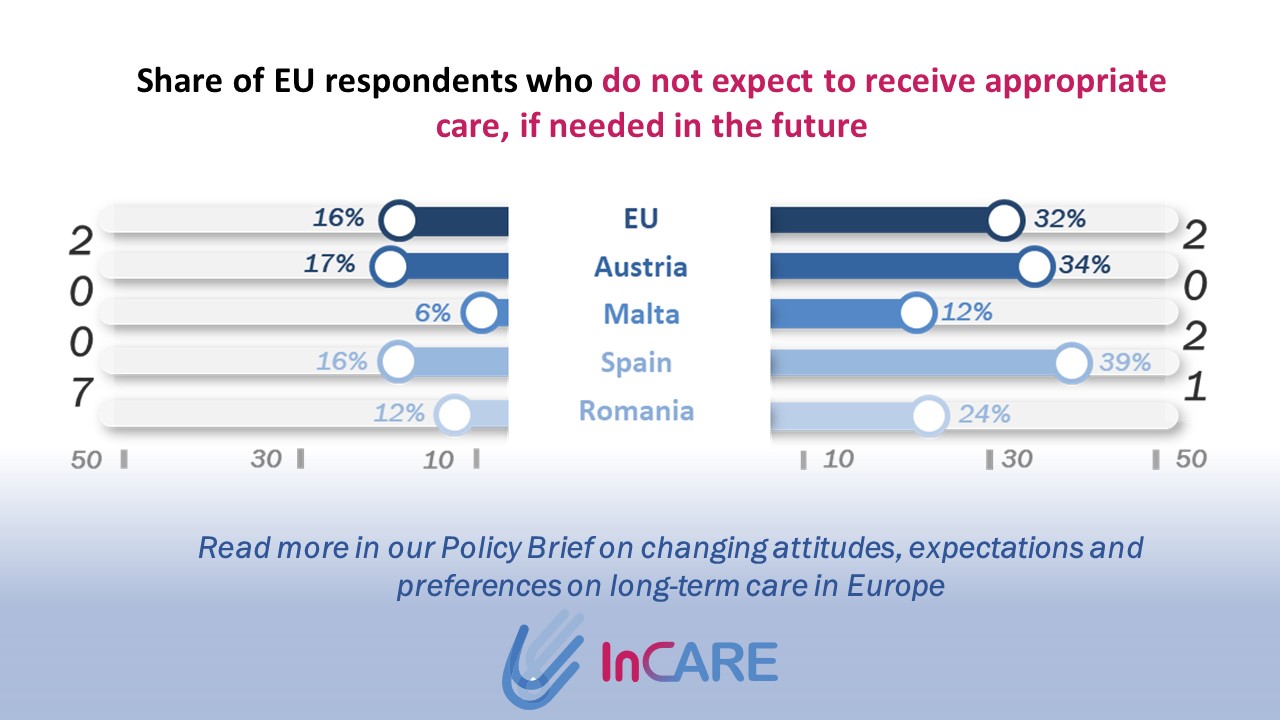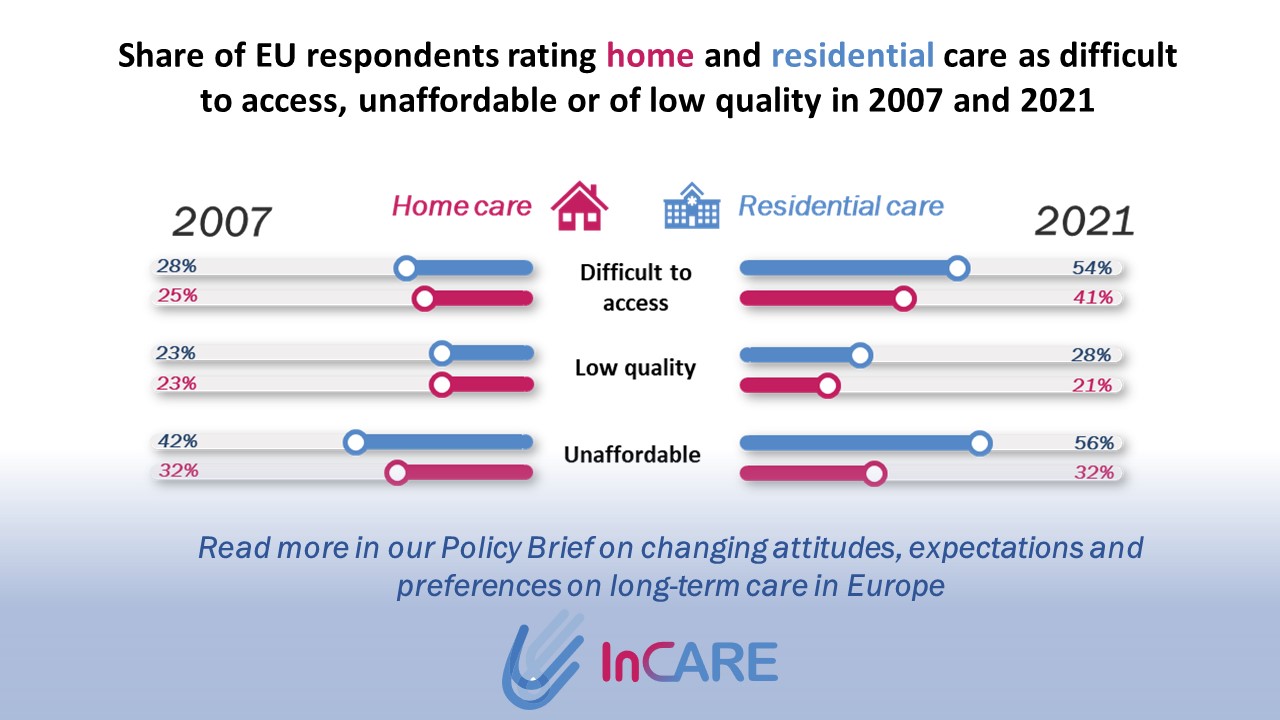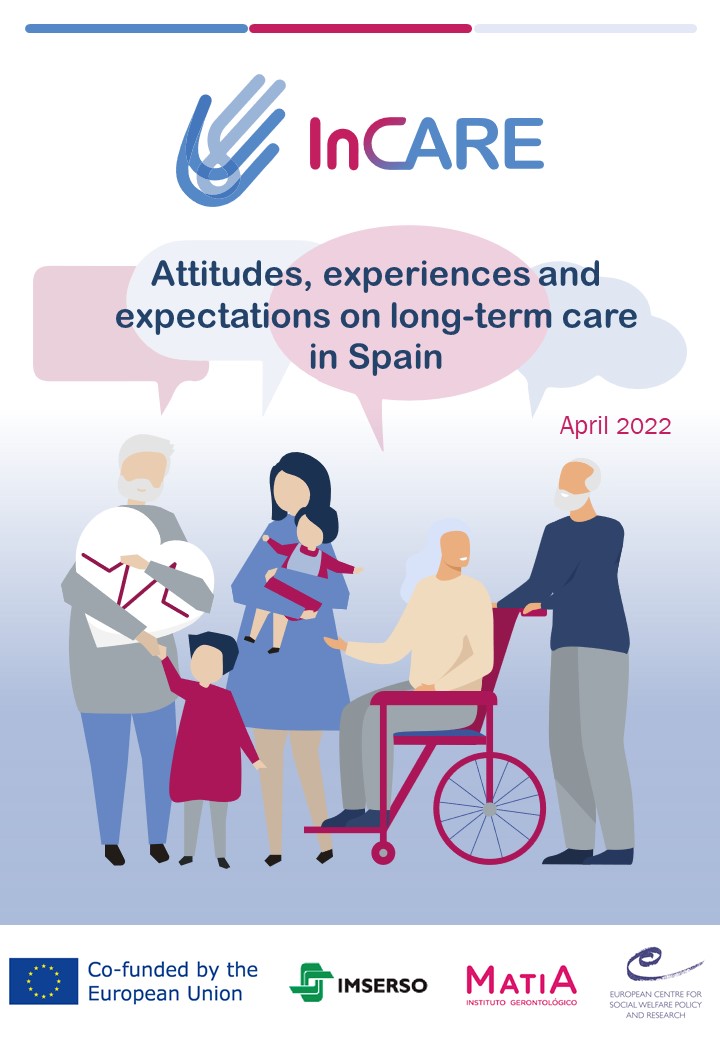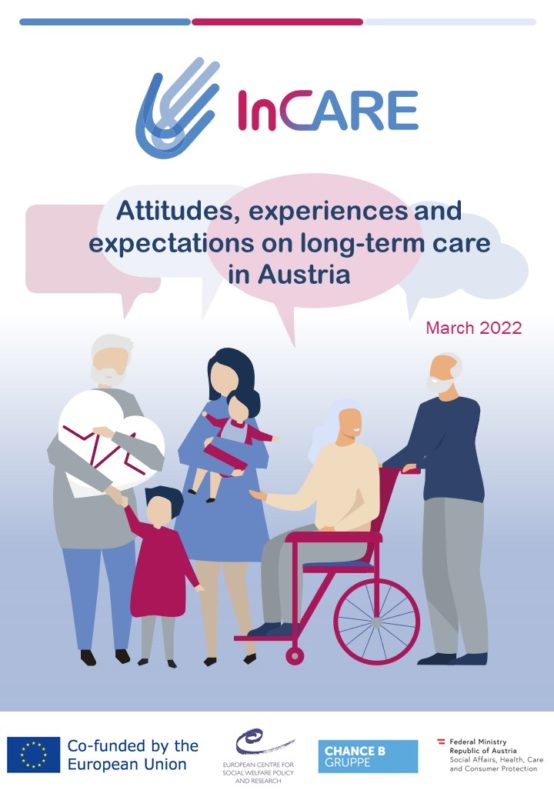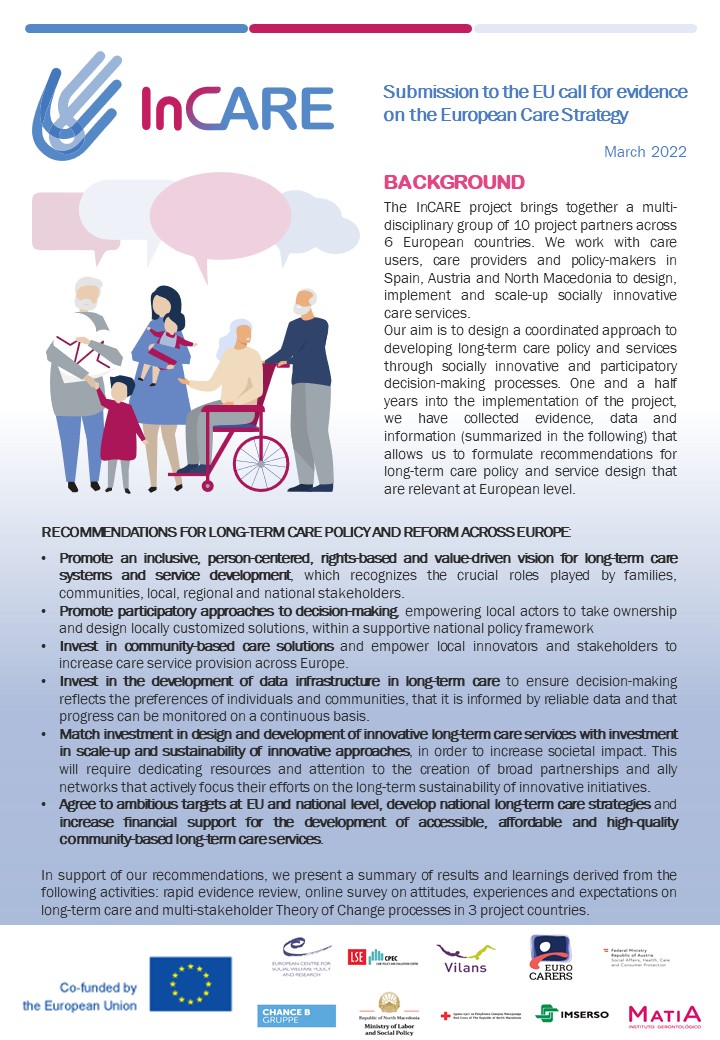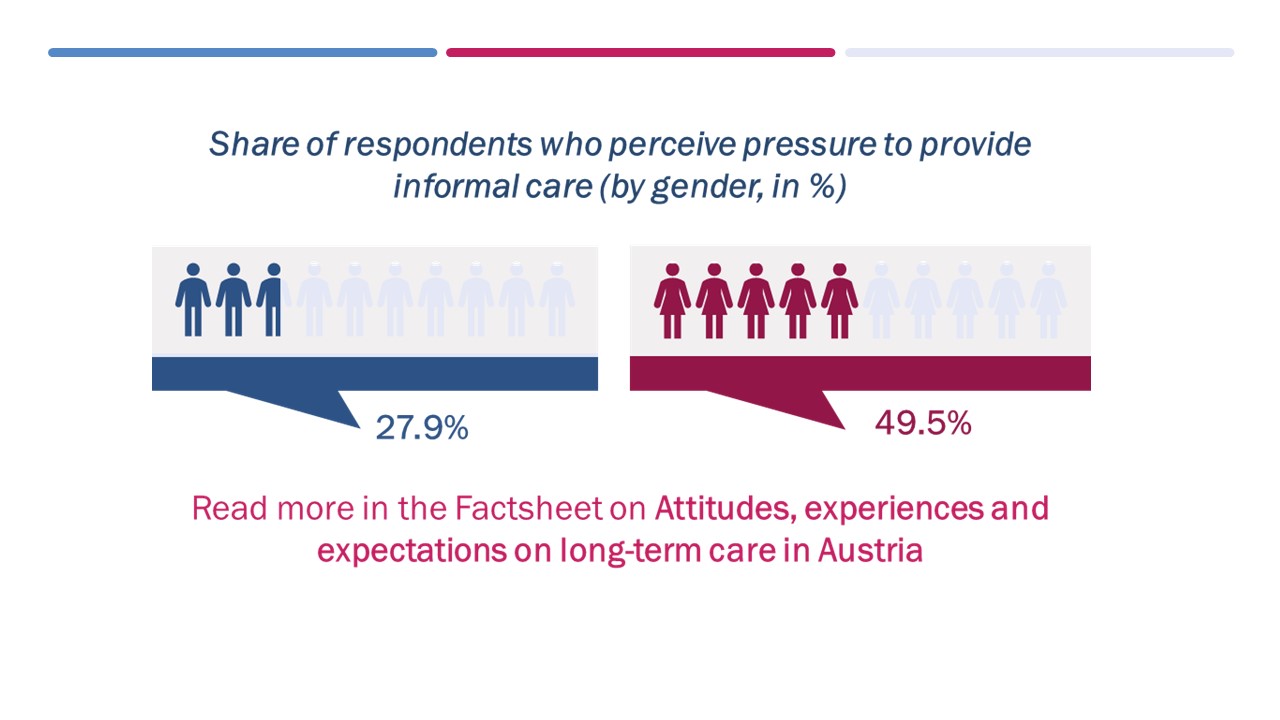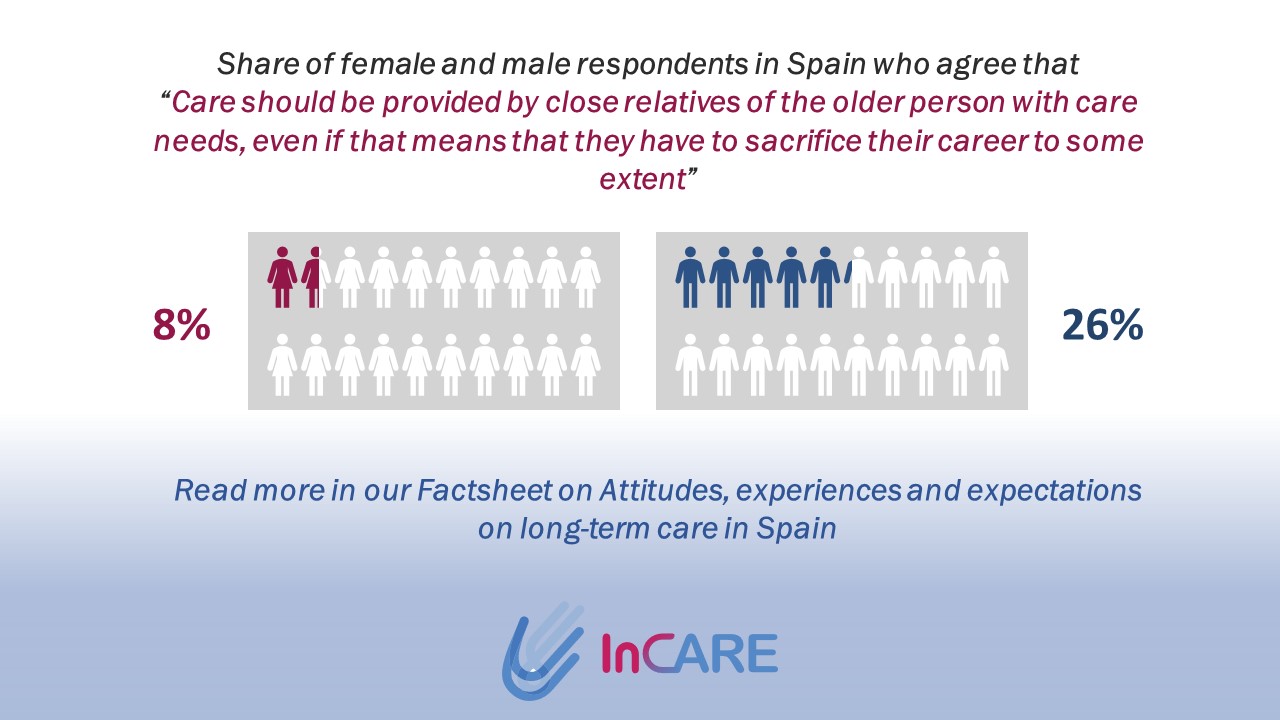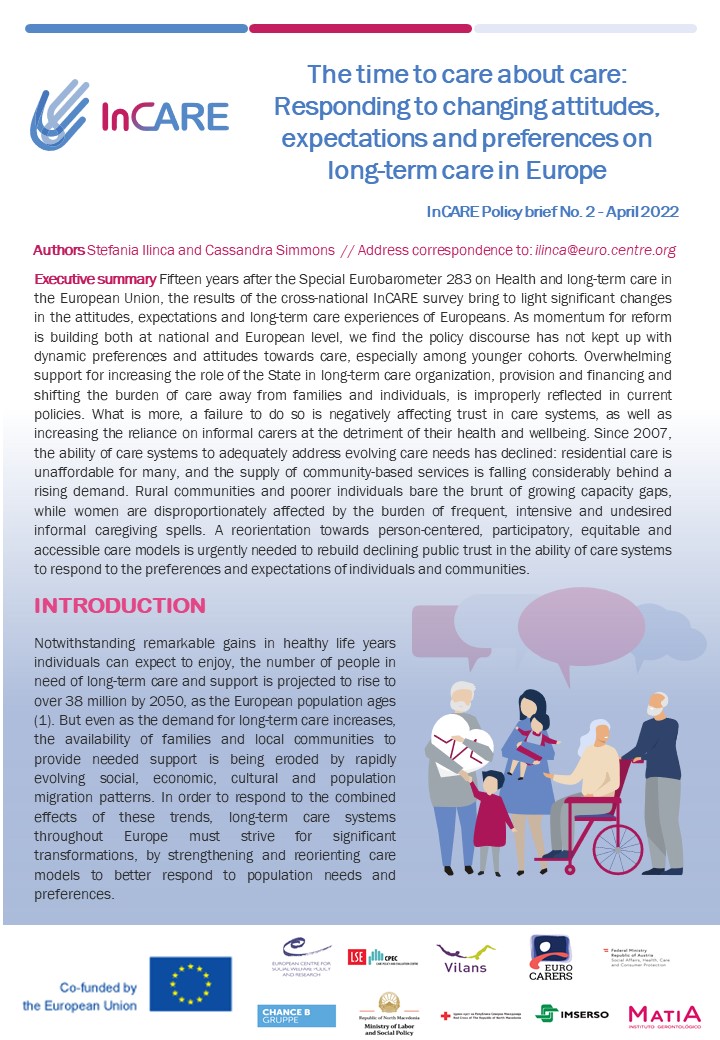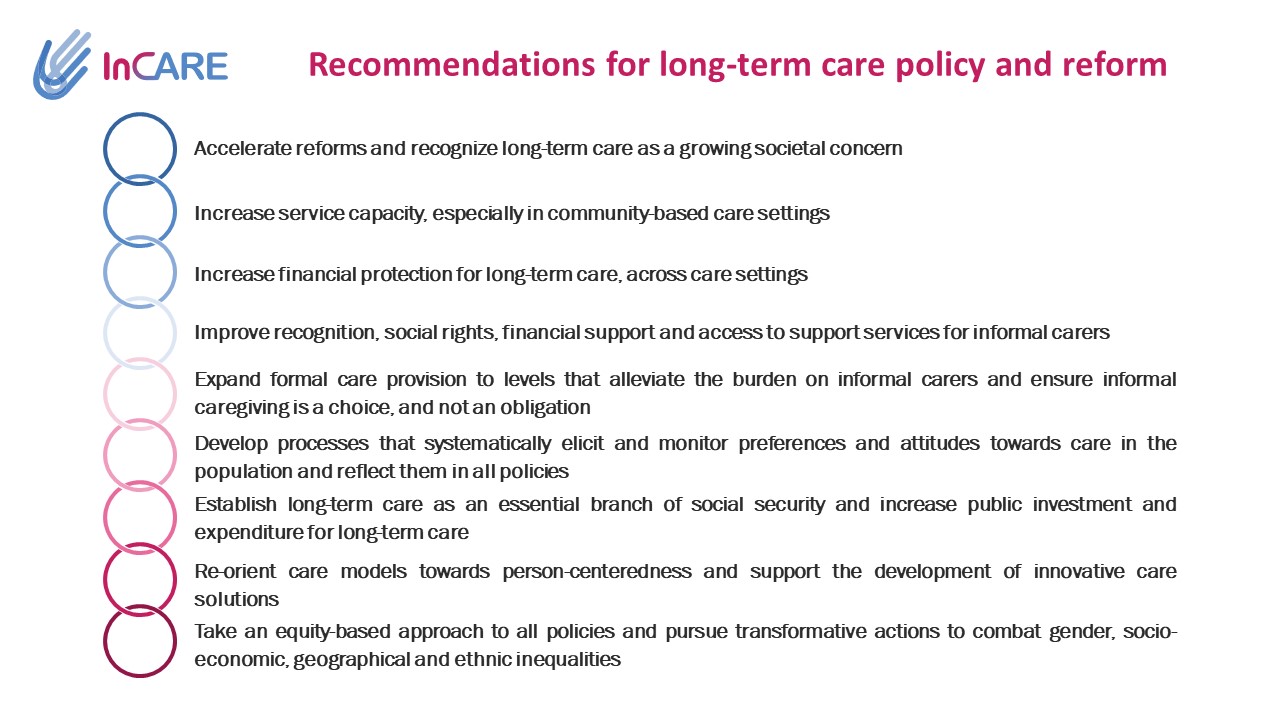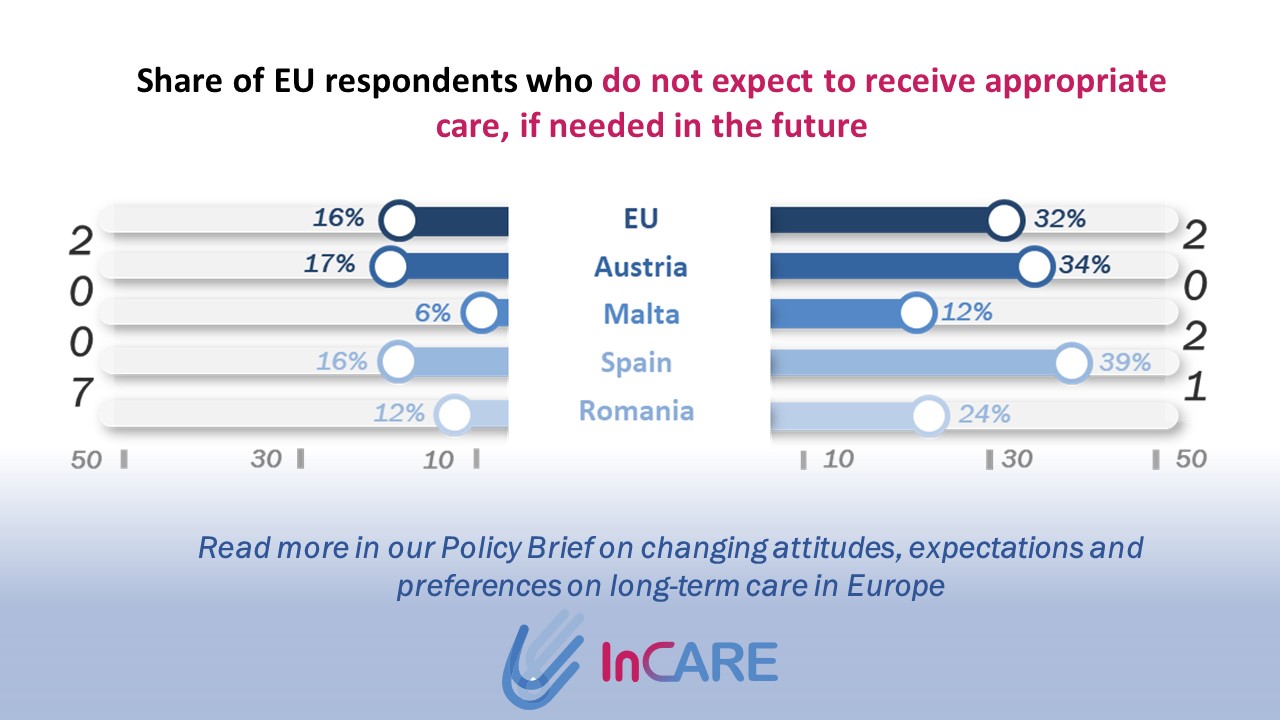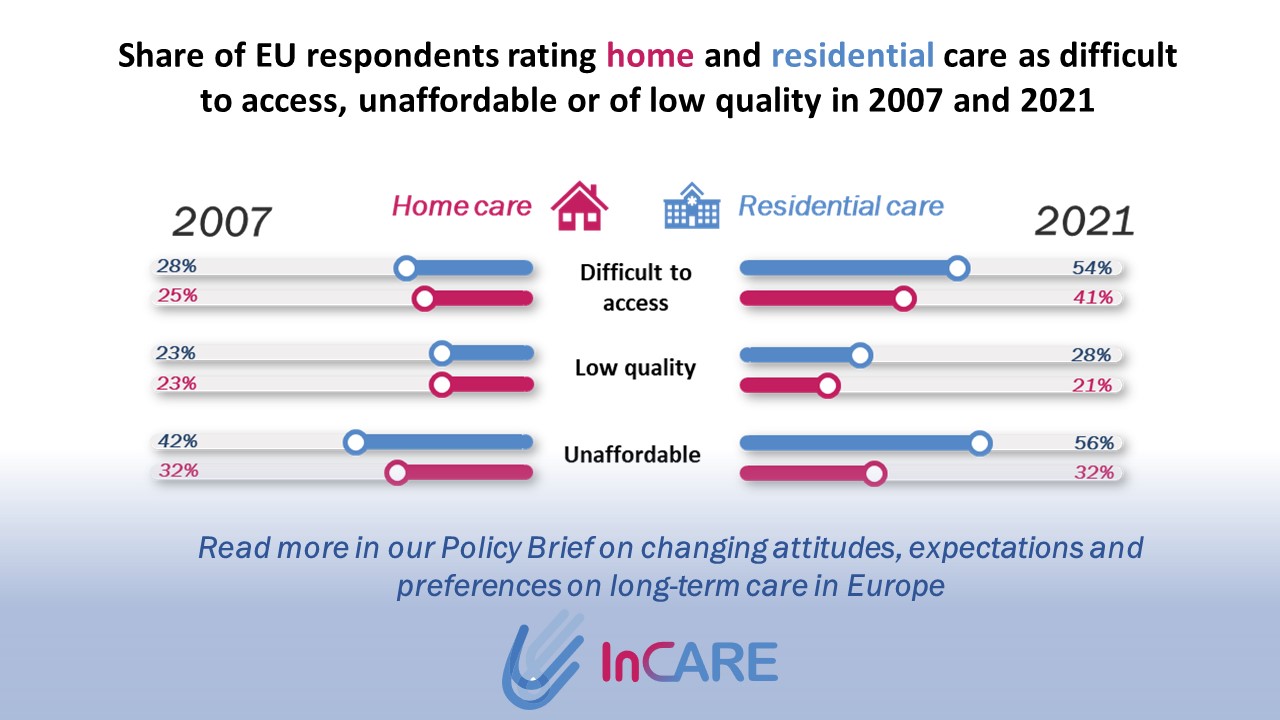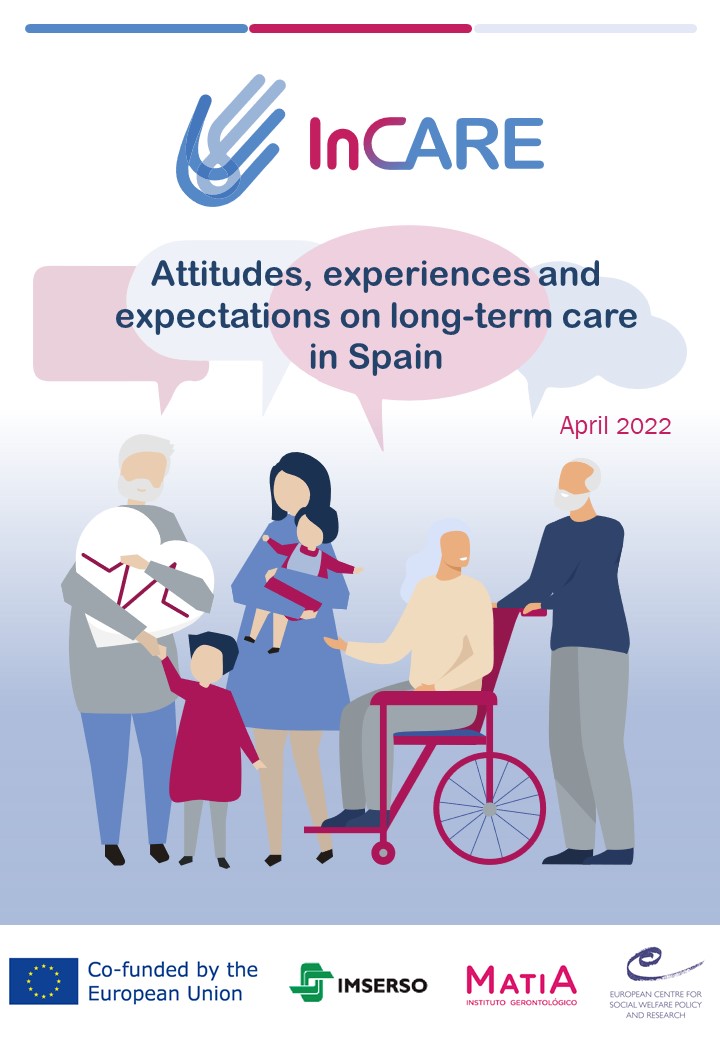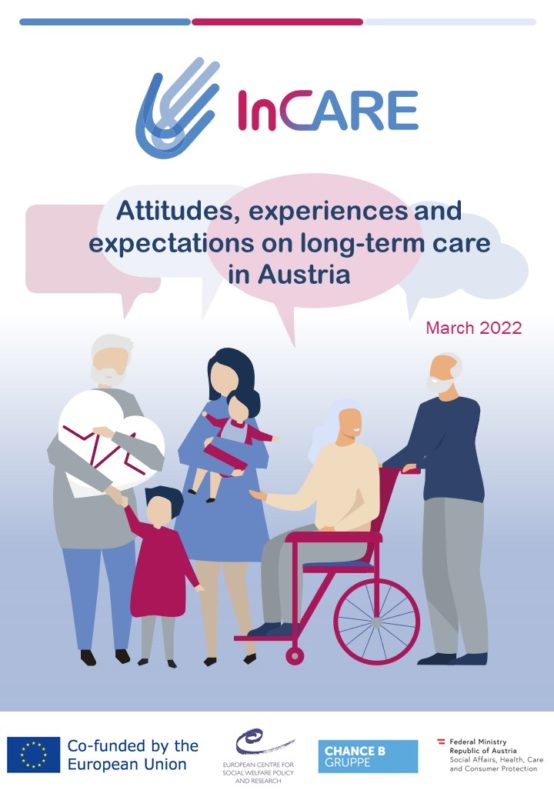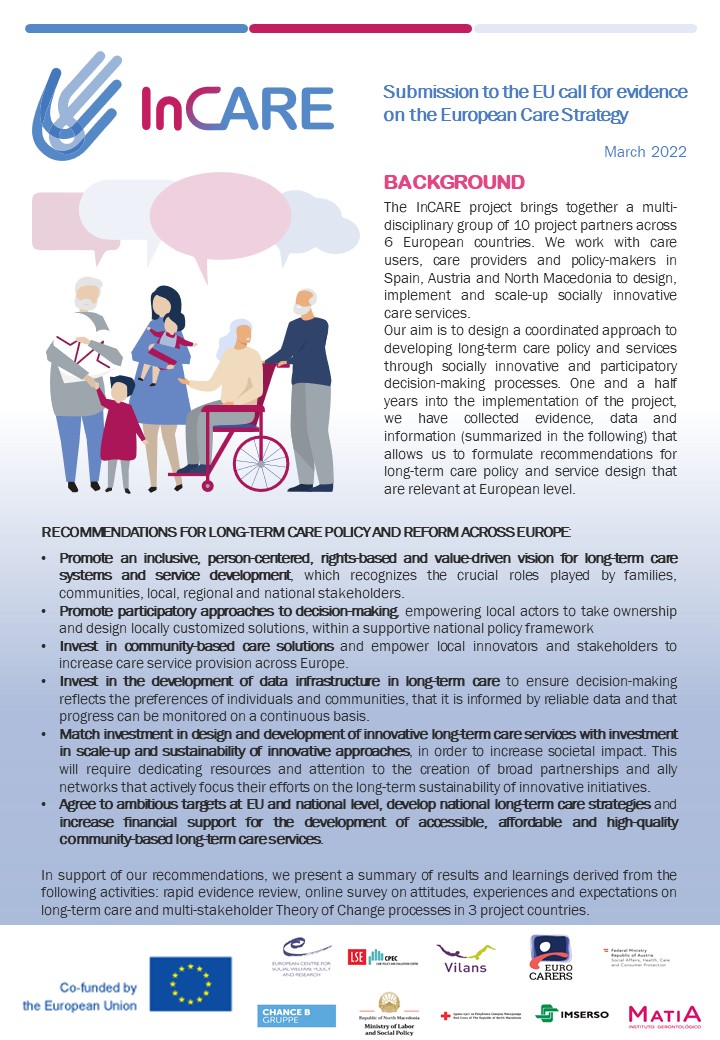 [translated -excerpt, emphasis in original text] Home-based assistance offered by the Romanian state to older people DOES NOT EXIST. This is unacceptable. […] for sick people and the elderly the situation is extremely BAD. There is no help. No state funded services to help them at home or in an institution, facilities for the elderly are so bad they are more like prisons or labour camps. I also strongly advise you to do a study and personal visits to psychiatric hospitals, and how mental health is treated in Romania.
[Translated] I don't understand why people with high income and property don't have to pay for their own place in [residential] care homes!
[translated] Additional taxation for end-of-life care is not equitable, considering that people already pay for health insurance. It would be necessary to eliminate corruption in the national health system, increase the quality of services and put a stop to the capture of the national health system by private entities who misappropriate funds that should be invested in our health, turning them into personal profit.
[Translated] In Belgium, we are immensely lucky that our health care system is based on solidarity. It is important that this continues and is even strengthened to avoid inequalities.
[translated] It is not easy to gain the trust of a stranger and let them take care of you. Trust and safety are also very important factors in receiving /providing long-term care.
[translate] I hope your study can contribute to helping older people in need of care.
[Translated] In the next few years, Germany will need more good care facilities, if possible connected with other living facilities in which partners can also live. With high quality standards, but also with empathetic nursing and care staff and good living standards. With medical care, physiotherapy and a good activation program. Care should be affordable for all and not be passed on to family members who risk their health, private life and income for it. Nursing home care should not be stigmatized, as it relieves relatives of a great deal of work and ensures care free interaction with the persons to be cared for. Financial reasons should not be the reason why people do not go to a nursing home, because the psychological burden is too high.
[translated] Well, I hope that caregivers get a protected or priority status – I mean at work and as workers, everyone needs us, our attention, and to some extent it feels like we are omnipotent and can care for others, care for ourselves and sometimes, care for our parents. That is wrong.
[Translated] I care for my husband after a stroke and brain hemorrhage, which means he needs me around the clock. I would like to have a paid time off of one week once a year and my husband is well taken care of and does not feel "deported". After all, by taking care of him, I save the state a lot of money!
[translated] I am of the opinion that a pensioner has paid a rather large sum to the State month after month all his life. In old age, when that person would need long term care the state should participate in the necessary costs of the care and not leave the family to do it alone.