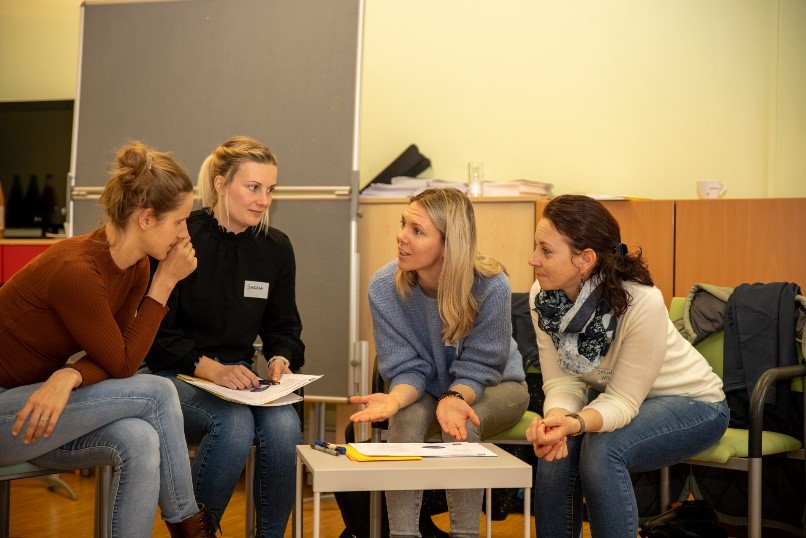 Train the trainer approach: InCARE training programme in Austria
An important element in the Austrian pilot is the conceptual design and implementation of training modules for professionals.
After a first round of sessions focusing on relaxation methods and the Caring Community approach in 2022, the InCARE team is currently implementing a training program for professionals and counselors aiming at fostering their know-how in supporting informal carers. The relevance of the content of this programme has been checked beforehand with informal carers.
The first part of the training took place in the beginning of March, with 20 participants coming from different parts of the region. Some of the counselors involved are also informal carers, volunteering to support their pairs.
For the second part, the INCARE team split the group in two and held two separate workshops: one for care professionals and the other one for counselors. The content was the same, but the priority given to the respective topics and the timing were slightly adapted to meet the needs of each specific group.
Another two online meetings will take place in April and May. A closing session will complete the program in June. Two of the participants, who will take part in online meetings for the first time will be offered additional training on this digital tool.
The feedback from the participants in the first three workshops was highly positive and encouraging. Parallel to the implementation, the Austrian team is looking for ways to scale up this approach and ensure a sound follow-up.
Picture:  Nadine Brandl, Chance B