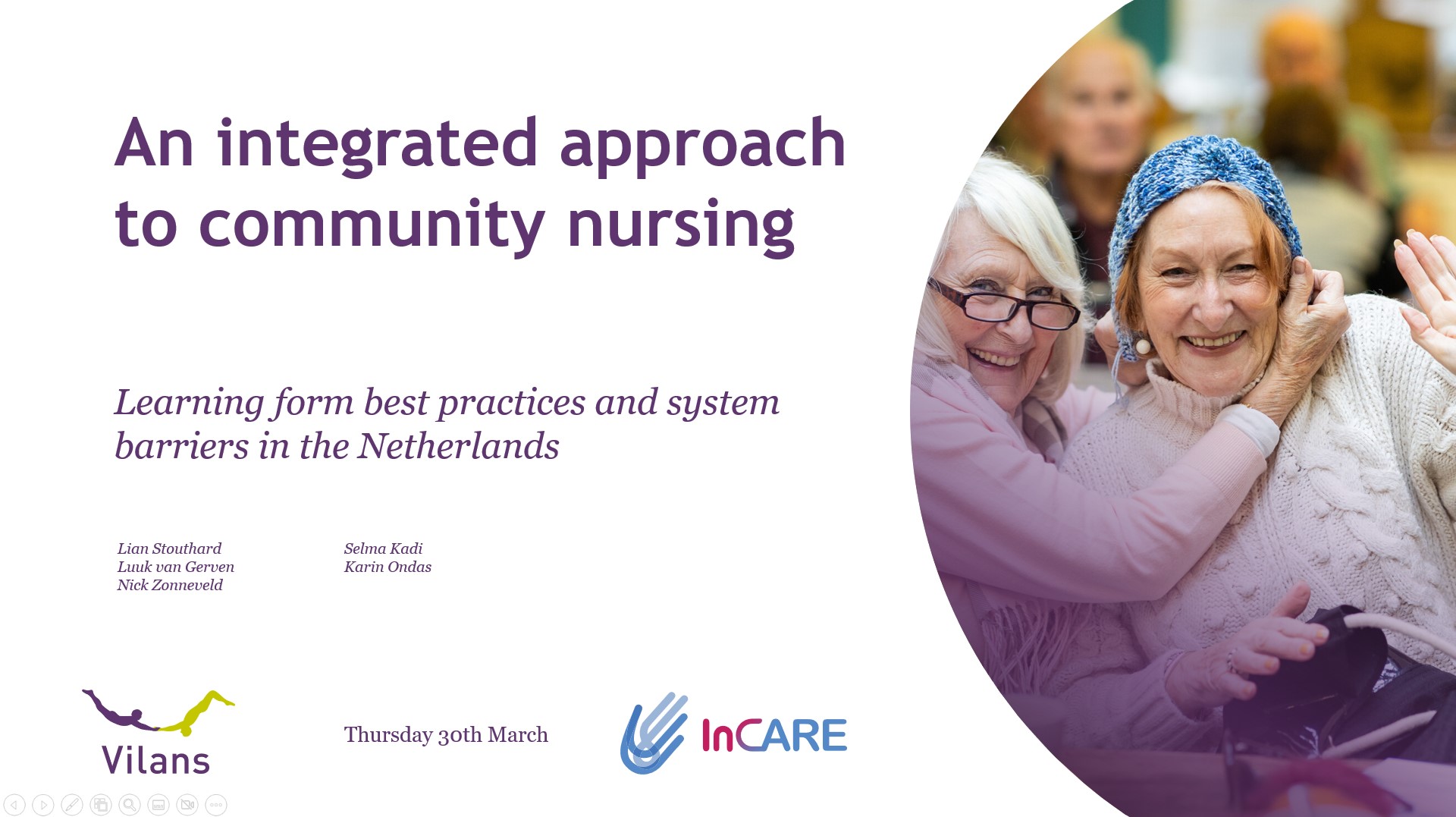 Webinar on Community nursing in the Austrian InCARE pilot project
Vilans, Chance B and the European Centre for Social Welfare Policy and Research organised an online webinar on experiences with community nursing in the Netherlands, one of the knowledge transfer activities in the Austrian InCARE pilot. Lian Stouthard and Luuk van Gerven from Vilans presented how community nursing is embedded in the Dutch health and care system, how it is implemented, as well as best practices and remaining challenges. Their insights were then commented on by the participants. The webinar was organised as a bilingual event, with slides in English and German, presentations in English and discussion of reflections and questions in German.
The event on 30 March was met with a great response, over 60 persons from Austria and Germany joined the discussion online. The audience consisted of individuals from innovative projects in the care sector (7 participants), community nurses (21 participants), researchers (11 participants), management level of care providers (11 participants), management level of local/regional administrations and care units (7 participants), members of lobby organisations and networks of care users and informal carers regionally and nationally (2 participants), politicians (2 participants), others/not registered (1 participant).
Some examples of the generally very positive feedback received after the webinar: What was most valuable about it for you? "explanation of the emebdding of community nursing into the overall system", "information about structure / working methods and financing in the Netherlands" "good mixture of reported experiences and facts", "differences and commonalities", "very well presented", "exchange", "first hand experiences – possible to answer questions directly", "explanation of the practical implementation community nursing, insight Buurtzorg".
Further resources in Dutch on (quality) instruments related to community nursing in the Netherlands mentioned in the webinar: