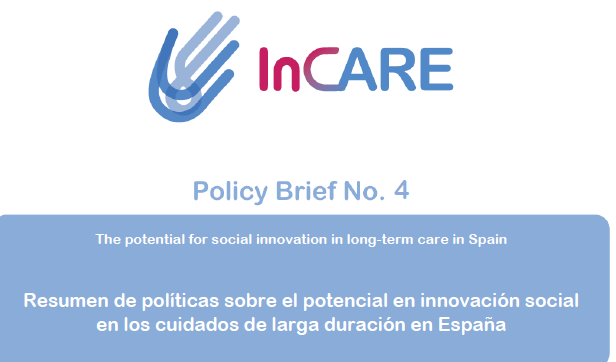 The potential for social innovation in long-term care in Spain: new Policy Brief available in Spanish
The InCARE Project Theory of Change workshop on long-term care in Spain in the next decade represented an innovative, coherent and coordinated approach, in which multiple stakeholders participated A theory of change map was designed that can help the development of national policies, in line with recent policy developments in Spain in favour of a person-centered care model.
This report indicates the need to combine investment both in the design and development of social innovation and in scaling up innovative pilots and ensuring that these innovative approaches are sustainable. It calls for the creation of networks between communities, service providers, and legislators at the local, regional, and national levels.
Read the full report (in Spanish) here.