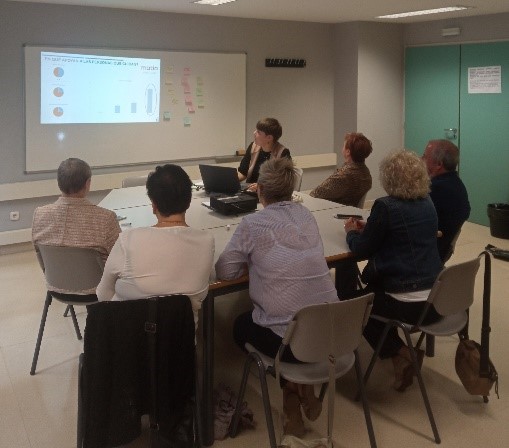 Ongoing training for caregivers in Spain
The InCARE Spanish pilot aims to encourage reciprocity in non-professional care relationships, with special attention to supporting the well-being of family caregivers of older people with dementia. One of the conclusions from both the Theory of Change workshops and the pre-evaluation with participants in the Spanish InCARE pilot was the need for training and counseling for the caregivers.
Throughout October and November 2022, various sessions were held with 10 carers' support groups in 8 municipalities across Gipuzkoa (Spanish Basque Country). In addition to giving feedback on the results of the evaluations in which they had participated, the participants were asked about the type of training and advice they would like to receive. Although not all the groups were interested in the same topics, some themes stood out clearly, namely:
Handling complex situations and challenging behaviour.
Communication with people with dementia
Advance healthcare directives or living will
Loss and grief
Loneliness
Some participants also expressed interest in postural hygiene and mobilisation, emotional management, or availability and knowledge of care resources.
Based on the clarification of these needs, sessions are being designed and material is being developed for the groups. One or two sessions are devoted to each topic, including a presentation followed by an in-depth discussion and reflection, both individually and in groups, by sharing personal experiences. Training sessions have already started and will continue over the next months!!